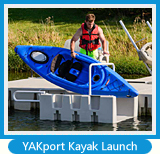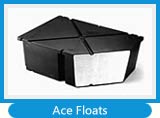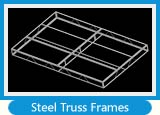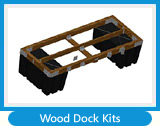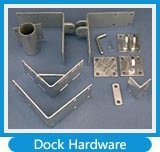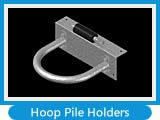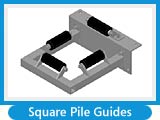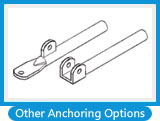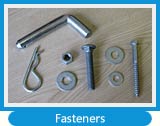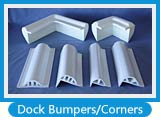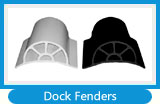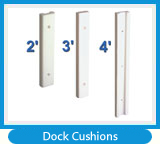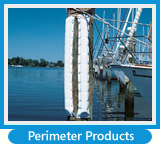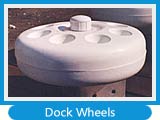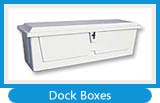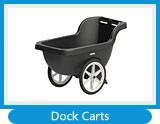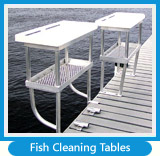 DOCK CLEATS

Below you'll find an assortment of dock cleats that we have available.
Need a style or size you don't see here? Give us a call.



Tie Down Rings

1/2" x 6" Zinc plated machine bolts.
"Through" bolt or lag style available.

C-TDR
---
Black Nylon Cleats

Almost unbreakable and resistant to salt and sun damage. Use two 5/16" flat head bolts to fasten down. Available in 8" or 10".

C-8N or C-10N
---
Aluminum Safety Cleats

Tired of stubbing your toe on cleats? This cleat lays flat when not in use and is rounded on the edges. Unlike some of the imitations that break, this is cast from almag 35, a true marine grade of aluminum, and is extremely strong and corrosion resistant. It can be bolted down from the top. Uses 3/8" fasteners. Comes in 6" or 8".

C-SFTC-6
C-SFTC-6B
(Black Powder Coated)
C-SFTC-6W
(White Powder Coated)
C-SFTC-8
C-SFTC-8B
(Black Powder Coated)
C-SFTC-8W
(White Powder Coated)



---
Nylon Fold Down Cleat Seat

Cleat can be fully hidden when not in use - reduces tripping hazard. Made of a nylon composite it is strong and durable. With the angled sides, it can be driven over - when seated. Will not rust or corrode. Can bolt to existing boat docks or any flat surface: docks, boats, trailers, truck beds, work vans, garages, hangars, etc. Uses 1/4" fasteners. Available in White or Black and in 6" or 9".

C-FD6 or C-FD6W
C-FD9 or C-FD9W


Specifications
---
Galvanized Steel Cleats

Steel cleats are made from malleable iron and then hot-dipped galvanized. Uses hex head bolt. Available in 8", 10" or 12".

C-8, C-10, or C-12
---
Ship Cleats

Our ship cleats are Heavy-Duty, Hot-Dipped Galvanized Iron.
Uses Hex Head Bolt.

C-040808 - 8"
C-040810 - 10"
C-040812 - 12"
C-044815 - 15"
---
Stainless Steel Ultra Cleats

The ultimate in fold down / flip up cleats. Same safety features as other fold down cleats, with the added benefit of Stainless Steel. Available in 6Ē and 8Ē.

C-UC-SS-6 - 6"
C-UC-SS-8 - 8"
---
DOCK EDGE + FLIP-UPô CLEATS

Cast from solid Marine Grade Almag 35 aluminum and powder coated white or burnished using a special process to give a traditional metallic finish. Distinctive and highly functional.

Four Models available.

DE-2606P-F

Flip Upô Dock Cleat, 6",
Aluminum, Polished

Add to Estimate

DE-2606W-F

Flip Upô Dock Cleat, 6",
White, Almag 35

Add to Estimate

DE-2608P-F

Flip Upô Dock Cleat, 8",
Aluminum, Polished

Add to Estimate

DE-2608W-F

Flip Upô Dock Cleat, 8",
White, Almag 35

Add to Estimate
---
(WH-CA) The cleat angle has slots that accommodate various cleat sizes. Bolt the cleat angle to the side stringer using a Washer Plate (WH-W). Then bolt the cleat through the deck into the cleat angle. This will ensure that the cleat will not pull out of the deck.

---
SOLAR DOCK CLEAT
Part No. #96-288-F

Attractive and functional with powerful solar charging performance & mooring strength.

Cast aluminum alloy chassis
Wide, sturdy base footprint
5 Super bright white LEDs for side and base illumination (18000 milli Candela each)
Polycarbonate side lenses
Epoxy Monocrystalline solar panel
Rechargeable, replaceable AAA (Ni-MH) battery
Waterproof to standard IP65
Up to 12 hours illumination from a single charge
Automatic an-at-dusk
Viewing distance up to 325 ft. (100m)
Optimal working temperature -4°F to +140°F (-20°C to +60°C)
Dimensions: W= 10" (254mm) D= 3.9" (100mm) H= 3" (75.4mm)
1.9 lbs.
10.5" x 4.5" x 4" Packaging Dimensions
UPC No. 776113962886