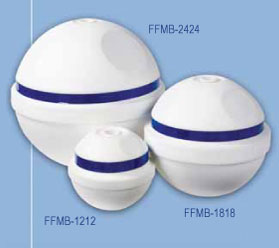 The innovative design of Ace Mooring Buoys is easy to recognize. Designed to be durable and attractive, the buoys have several new features and can be personalized with little effort. Three flat spots on the top half of the buoy allow you to customize with graphics, numbers or reflectors. When you approach your personalized buoy, a molded-in plastic bumper protects both the buoy and reflective blue tape that makes Ace buoys stand out in the water. The tape stays smooth on its flat groove, right above the center bumper.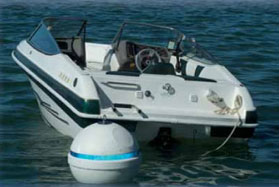 The hard polyethylene shell has UV inhibitors to keep it looking new. Polystyrene foam fills the shell to provide maximum buoyancy. A PVC tube is molded through the center of the buoy to allow for different hardware options. An injection-molded collar captures the tube on each end and protects the buoy from wear.
Buoys can be used to mark waterways, can be rented to boaters mooring at your marina, or can be used to support the line to which you anchor your own watercraft. The buoys are also available without a bumper in the 32" x 38" & 42" sizes.
Why not choose a buoy that is durable, personal and eye-catching?
Click here to view the installation instructions.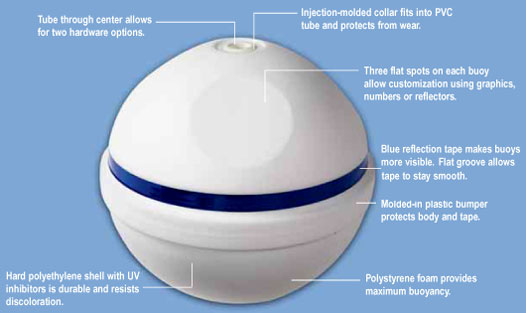 (Click picture to enlarge.)
Hardware Options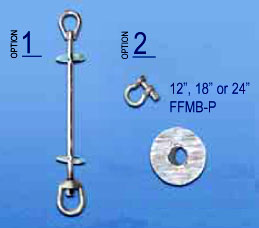 Option 1 - Fixed Mooring Hardware Kit.
This hardware kit captures the buoy on both ends and provides a swivel at the bottom for attachment of the anchor line. A loop is provided at the top for handling the buoy and storage of the watercraft pendant line on the buoy. Never anchor the watercraft directly to this loop. Watercraft must be anchored below the buoy and directly to the anchor line.

Option 2 - Pass-Through Mooring Hardware Kit.
This hardware kit passes through the buoy center tube. The anchor line is attached directly to the line shackle. A bearing plate under the shackle prevents the shackle from passing through the buoy tube. The watercraft's pendant line is fastened directly to the shackle.
Fixed Mooring
Hardware Kit

Pass-Through Mooring
Hardware Kit
MOORING BUOYS

PART NO.

DESCRIPTION

DIMENSIONS

BUOYANCY

FFMB-1212
Buoy, 12″ Bumper Mooring Foam Filled
12″ diameter
12.5 lbs

Add to Estimate

FFMB-1818
Buoy, 18″ Bumper Mooring Foam Filled
18″ diameter
51 lbs

Add to Estimate

FFMB-2424
Buoy, 24″ Bumper Mooring Foam Filled
24″ diameter
124 lbs

Add to Estimate

FFMB-3232
Buoy, 32″ Bumper Mooring Foam Filled
32″ diameter
270 lbs

Add to Estimate

FFMB-3232RND
Buoy, 32″ Round Mooring Foam Filled
32″ diameter
278 lbs

Add to Estimate

FFMB-3838
Buoy, 38″ Bumper Mooring Foam Filled
38″ diameter
547 lbs

Add to Estimate

FFMB-3838RND
Buoy, 38″ Round Mooring Foam Filled
38″ diameter
556 lbs

Add to Estimate

FFMB-4242
Buoy, 42″ Bumper Mooring Foam Filled
42″ diameter
630 lbs

Add to Estimate

FFMB-4242RND
Buoy, 42″ Round Mooring Foam Filled
42″ diameter
640 lbs

Add to Estimate

FFMB-32F
32″ Fixed Mooring System – Bumper
32″

Add to Estimate

FFMB-32FRND
32″ Fixed Mooring System – Round
32″

Add to Estimate

FFMB-38F
38″ Fixed Mooring System – Bumper
38″

Add to Estimate

FFMB-38FRND
38″ Fixed Mooring System – Round
38″

Add to Estimate

FFMB-42F
42″ Fixed Mooring System – Bumper
42″

Add to Estimate

FFMB-42FRND
42″ Fixed Mooring System – Round
42″

Add to Estimate